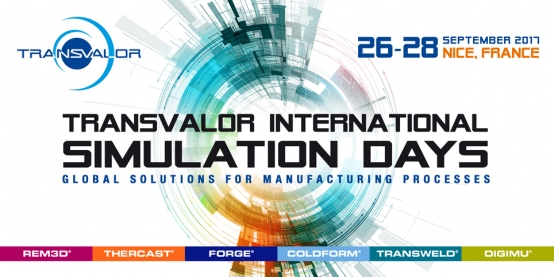 TRANSVALOR, membre associé de l'Association Française de Forge, développeur et fournisseur d'une suite de logiciels de simulation hautement performants utilisés dans la plupart des opérations de formage de matériaux, organise la 1ère édition des Transvalor International Simulation Days.
Cet événement destiné à rassembler les utilisateurs des suites logicielles FORGE®, COLDFORM® et THERCAST® se tiendra les 26, 27 et 28 septembre prochains à Nice, France. Des nouveautés produits telles que DIGIMU®, TRANSWELD®, REM3D® pour la microstructure, le soudage et l'injection plastique seront également présentées.
Ces trois journées proposent un programme complet de conférences agrémenté de nombreux témoignages et retours d'expériences client. Les participants auront le loisir de tester les toutes dernières versions des logiciels sur les espaces 'démo'. L'exposition technique organisée en marge des conférences sera l'occasion de rencontrer plusieurs acteurs industriels & scientifiques afin d'évoquer les dernières tendances et tisser des liens entre pairs et experts.
Pour consulter le programme de ces journées, rendez-vous sur le site dédié à l'événement : http://tisd2017.transvalor.com/
Jean-Luc Brillanceau, Directeur Général de la Fédération Forge Fonderie, interviendra lors de la première journée de conférence (10:10-10:30) pour un Keynote Speech intitulé "Macroeconomic panorama of the forging industry in France & Europe".
Si vous êtes intéressés par cet événement, vous pouvez encore vous inscrire jusqu'au vendredi 22 septembre à midi en adressant votre demande à marketing@transvalor.com