Back To Top
Accueil
> The Federation >
Companies directory
Companies directory
You can trust our french metal shaping companies for forging, casting, molds and prototypes
Forging, casting, mold and prototype are at the heart of technologies and know-how of metal shaping activities. They together provide the essential foundation for the whole Industry.
The member companies listed in our directory are performing and competitive. They are supported by their professional organization, benefit from the expertise of reknown and specialized Technical Centers (CTIF, CETIM) and are able to answer to your requests for quotations with the best quality and price in a timely manner.
For any further enquiry, search for complex parts, or to order a hard copy of our complete companies directory, please
feel free to contact the Fédération Forge Fonderie
.
Je recherche :
Recherche par mots-clés ou nom d'établissement
Département
Markets
Taille de lots

Products (Mold & Prototype)

News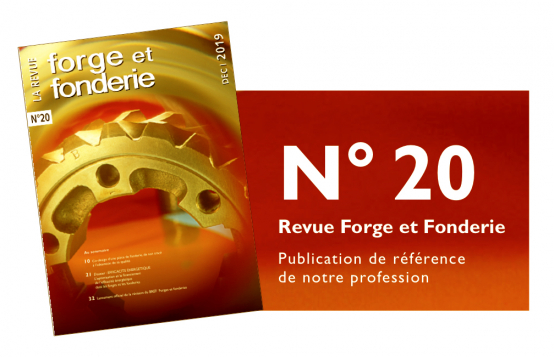 January 6 2020
La revue Forge et Fonderie n° 20 en ligne
Sommaire N° 20/2019
EDITORIAL
APPEL - Solde de la taxe d'apprentissage 2020 : Soutenez l'ESFF !
Matinée Silice cristalline - Le village Forges Fonderies Francaises au MIDEST
TECHNIQUE
Co-design d'une pièce de fonderie, de son tracé à l'obtention de sa qualité
Dossier : EFFICACITE ENERGERTIQUE
L'efficacité énergétique dans les forges et les fonderies
L'optimisation de l'efficacité énergétique d'une fonderie
Le moteur Ericsson valorise vos déchets thermiques.
La chaleur fatale au service de l'efficacité énergétique.
Plus d'économies, moins de CO2,
Eco-Tech Ceram au service de l'industrie lourde
Le financement de l'efficacité énergétique
ENVIRONNEMENT
Lancement officiel de la révision du BREF forges et fonderies
FORMATION
Proclamation des résultats et remise des prix
AGENDA
Les rendez-vous de la profession
www.forgefonderie.org/fr/la-federation/la-revue-forge-fonderie
Read more
| | |
| --- | --- |
| Directory | |
Forge Fonderie
Magazine
| | |
| --- | --- |
| Indicators | |
| | |
| --- | --- |
| Press Room | |
| | |
| --- | --- |
| Join us | |
Contact
Fédération Forge Fonderie
Head office
45 rue Louis Blanc F-92400 Courbevoie
Write us
45 rue Louis Blanc CS 30080 92038 La Défense Cedex
Tel. +33 (0)1 43 34 76 30
Fax. +33 (0)1 43 34 76 31
The Fédération Forge Fonderie is the French professional organization of metal shaping industries through forging, casting, metal additive manufacturing and related machining.
© 2016 Fédération Forge Fonderie - Credits & legal notice